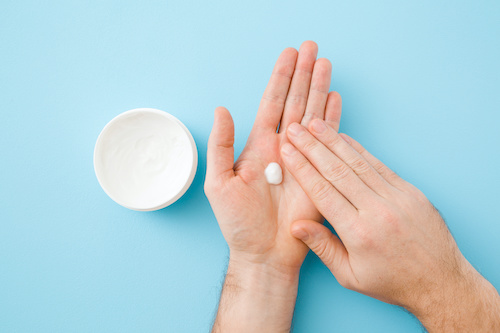 Waxing is one of the most popular techniques today for achieving smooth skin. However, if you have sensitive skin, you may be a little hesitant to schedule a men's waxing appointment since you don't want to experience a lot of discomfort. When you work with an experienced and trained waxing professional, they will take the best care possible of your skin and can provide tips on how to make the experience as comfortable as possible. Here are some ideas to help you prepare your sensitive skin for body waxing.
Use A Light Exfoliation Scrub
People with sensitive skin may avoid or limit exfoliation scrubs because those products irritate their skin. But if you're planning on scheduling a body waxing appointment, it's ideal to perform a light exfoliation scrub a day or two before the session for best results. Light exfoliation may even be in the form of gently rubbing a rough washcloth over your skin. The idea is to remove any dead skin cells so the wax will stick more to the hair and not the skin.
Hydrate To Prevent Dry Or Cracked Skin
Hydrating your skin is important for the best men's waxing experience. Drinking plenty of water is always recommended for other health reasons as well, but you can also use moisturizing creams to keep your skin healthy. Dry or cracked skin may lead to more discomfort during and after your body waxing session. And if your skin is too dry, the waxing professional may recommend not performing the service until the skin is more hydrated. One thing to remember is to moisturize the skin very well for a few days before your appointment, but avoid doing so on the day of your appointment. You don't want the product to get in the way of the wax, which can lead to discomfort and less-than-ideal results.
Don't Shave For Two Weeks Before Your Appointment
You want your hair to be between ⅛" and ¼" long for the best body waxing results. For most people, this means refraining from shaving for about two weeks before your appointment. When you go into the waxing salon for your initial consultation, the professional you speak with can give you a more accurate timeline if your hair grows faster or slower. The reason you need the hair to grow to this length is so the wax has enough hair to grip and pull.
Keep Your Skin Clean
It's always a great hygiene practice to wash your skin every day. It's even more important to do so before your waxing appointment. When the session is complete, your skin may be sensitive and vulnerable to getting infected. If your skin was not clean before the session, dirt and bacteria may lead to an uncomfortable infection afterward. 

Waxing 4 Men offers the best male waxing in San Francisco. We work with many different clients with unique needs and always strive to make clients with sensitive skin feel comfortable. When you follow these tips, you'll increase your chances of having a great experience. To learn more about our services and to schedule a waxing appointment, contact us at any time.