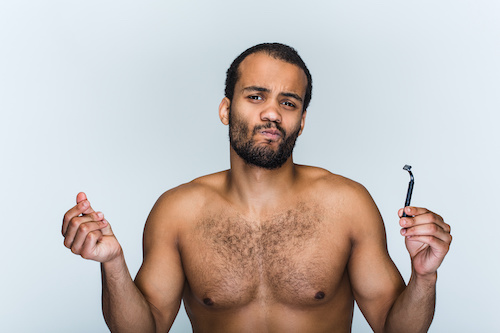 When you're getting ready to go to your first body waxing appointment, it's important to understand the steps to take to prepare appropriately. One of the biggest questions men have is whether they need to shave their hair or at least trim it before the appointment. In most cases, it's best to leave your hair alone for at least a couple of weeks before the session to achieve the best results. Understanding the stages of hair growth can help you grasp the concept and help you prepare for a seamless and effective waxing experience.
Shave Two Weeks Before Your First Appointment
For most waxing for men appointments, it's ideal to shave your hair about two weeks before your appointment and don't do anything with the hair after that. It's very tempting to trim hairs that grow faster than others, but resist the temptation to achieve the best body waxing results. The reason for this is you want the hair to be about ¼" long for the wax to grab the hair effectively and pull it out from the root. It takes about two weeks of growth to reach this length in general. If some of your hair grows at a faster pace, refrain from trimming it and allow your waxing professional to decide whether it needs to be trimmed at the time of your appointment.
Understanding The Stages Of Hair Growth
The hair on your body grows in three stages. But the most important thing to understand is every strand of hair won't be on the same stage at any given time. This means some hair will grow more quickly than others and won't look even on your body. The different lengths may not be as noticeable if you have thick hair, but it may be very noticeable if you've already gotten a body waxing appointment. It's important to schedule body waxing sessions roughly 3-4 weeks apart to achieve the best long-term results since you're more likely to wax the hair at the appropriate stages over time. After a few months, you should notice your hair growing more slowly, uniformly and not as thick.
When In Doubt, Don't Shave Between Waxing Appointments
Once you complete your first body waxing appointment, it's best to not shave before your next appointment. If you scheduled your next appointment several weeks later and believe shaving or trimming is necessary, contact your waxing professional before doing so. It could be that your hair grows back quickly and you need to reschedule your appointment for an earlier date. After you get your first body wax, refrain from shaving or trimming completely until you've at least done a couple more sessions.

Waxing 4 Men specializes in male waxing in San Francisco. Whether you're a first-time customer or you're a body waxing regular, we strive to provide you with the best experience possible from the moment you give us a call. We will give you all of the tips and advice you need to make your experience a positive one, so contact us today to schedule your consultation and be one step closer to smoother skin.