When the COVID-19 pandemic began, no one knew what to expect. As businesses across the world were forced to close temporarily, people scrambled to figure out what to do. Waxing salons were no exception, as most salons across the United States had to be closed for a certain amount of time. While businesses are beginning to re-open, you still may feel hesitant about coming in for your male waxing appointment. If you're in this situation where you can't get waxed, be sure to follow these tips to keep your body on schedule as much as possible.
Resist The Temptation Of Shaving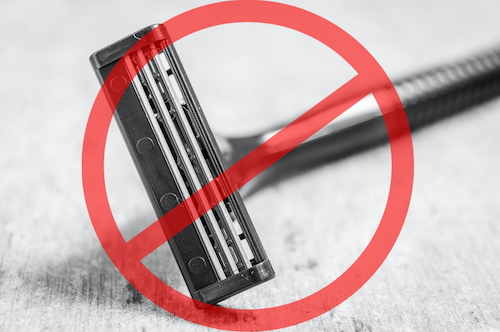 Shaving is one of the worst things you can do if you've been on a regular body waxing schedule. It may seem like it's the only option you have when the hair is growing long, but it's better to let it continue growing rather than shaving it off. Shaving can significantly disrupt the hair's growth cycle and potentially force you to start your male waxing regimen again from the beginning. If you're still avoiding going to appointments and staying inside mostly, embrace your hair's growth until you feel comfortable enough to get a body waxing session again.
Protect And Exfoliate Your Skin
It's critical to keep your skin protected, healthy, and exfoliated even when you can't get waxed. The same skincare routine your waxing professional suggested still applies so your skin will stay hydrated and your pores remain unclogged. Applying moisturizers to the skin is important even when you're spending most of your time indoors and away from harsh weather elements. The better you care for your skin now, the easier and more effective your body waxing session will be once you're able to get waxed again.
Trim Or Tweeze Hairs As Needed
Sometimes there will be random hairs that bother you so much that you have to remove them. If this happens, be sure to tweeze the hair to pull it out from the root instead of shaving the area. Keep in mind that tweezing should be limited to individual strands, so the overall hair growth cycle doesn't get disturbed too much. If you need to trim several hairs due to uneven growth or because it's becoming too bothersome, trim them as long as possible, and no shorter than about the length of a rice grain. 

Waxing 4 Men is the premier salon for men's waxing in San Francisco, and we are proud to have re-opened our business for customers to continue their male waxing schedule. We are following all of the COVID-19 protocols to ensure we provide the safest possible environment for our customers, on top of our usual cleaning and sanitization measures we take regularly. Your safety is our top priority, and we want you to feel comfortable resuming your waxing schedule. If you have any questions or concerns or are ready to make your next waxing appointment, contact us today, and we would be thrilled to help you.