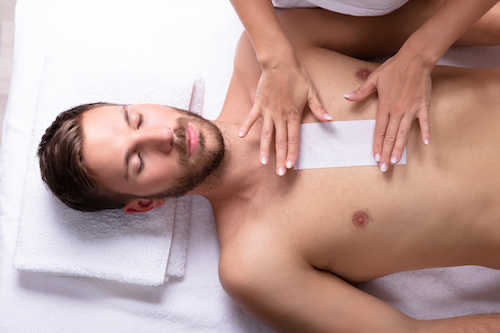 Men who have never had a waxing treatment before likely have a positive or negative perception about it, based on what they've read or heard from others. Everyone's experience is different due to various factors, but people with positive experiences typically follow expert protocols closely. Whether you want to get back waxing done or just want to try a couple of small areas first, we can help you have a successful experience by following these tips.
Be Transparent With Your Esthetician About Allergies
One of the keys to successful body waxing for men is being comfortable and transparent with your waxing professional. The professional needs to know if you have any skin sensitivities or allergies so they can use the proper topical creams and wax to help you have a better experience. There are usually different products or techniques the professional can use to cater to your needs, but they have to know about them ahead of time.
Exfoliate And Avoid Shaving
Proper preparation is essential for successful body waxing for men. Exfoliating regularly is vital for great skin health and doing so a day or two before your waxing appointment can help as well. The exfoliation process removes dead skin cells from the skin so hairs can come through more easily. You also want to avoid shaving for a couple of weeks before your appointment since the hair needs to be about ¼" long for the best results. If it's too short, the wax may not be able to grab the hairs as easily. If it's too long, the process may be uncomfortable and not as effective.
Be Prepared To Manage Pain
Everyone has different levels of pain tolerance. If you know your pain tolerance is low, avoid products containing caffeine and alcohol a couple of days before your appointment. You may also consider avoiding strenuous exercising since it boosts blood circulation, which can lead to more pain during your waxing session. Many people also take an over-the-counter pain reliever about an hour before their back waxing appointment to help minimize some of the pain. It's no secret that waxing is uncomfortable at the least, but the discomfort can also be managed.
Follow Post-Treatment Advice Closely
One of the most important things to do for the best waxing experience is to listen to your waxing professional about post-treatment care. This usually means avoiding sun exposure and sweating for a couple of days after the treatment. You also want to keep your skin and body hydrated, so drink plenty of water and use moisturizing creams recommended by your professional. When you follow their advice closely, you'll recover more quickly and can have smooth skin to enjoy as a result.
Waxing 4 Men is a top salon for male waxing in San Francisco. We understand everyone has a unique perception about body waxing for men and we are here to answer any questions and alleviate concerns for you. Our professionals are highly trained and experienced to ensure you get the quality results you expect. We are ready to help you achieve the smooth body you desire, so contact us today to schedule an appointment.