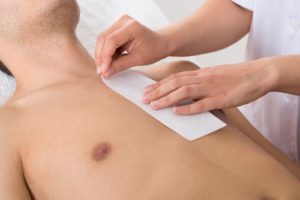 If you want to get rid of unwanted hair, Waxing4Men offers the premier hair removal options. Whether it's for your back, neck, legs, chest or any other part of your body where hair is a concern, we will leave you looking soft, smooth and suave for weeks. Our promise is to make waxing for men as comfortable as possible.
Our salon caters to men only
We feature private rooms
You can count on a clean environment and sophisticated ambience
We use only high quality wax and supplies
What Makes Us Different
Due to the sensitive nature of waxing, our male-only salon takes extra care to ensure every area of your body is given proper treatment by male estheticians.
Our staff consists of a majority of male estheticians (one female)
All for our friendly, professional estheticians have been trained by Steve Crovo
Our combined experience equals over 50 years
We pride ourselves on staying abreast of the latest manscaping and waxing trends
How It Works
By spreading the highest quality wax on the desired area before applying a strip of cloth, we take your hair (including roots) off in one quick pull. Luckily, men have fewer nerve endings near the skin than women, so they are less sensitive during male waxing.

The good news? This kind of hair removal often lasts for up to eight weeks! After treatment, most men find as their hair grows, it's softer and thinner, just the opposite of hair that's been shaved or removed through a cream. Regular waxing means the re-growth is slower and the hair shafts become finer.
Waxing Then and Now
Waxing for men is a popular grooming technique replacing daily shaving. Although manscaping and waxing have been around for centuries, the desire to remain smooth and hair free has never been greater. Today, men are choosing to get rid of some areas of unsightly body hair, either to please themselves or their partner. Waxing for men is suggested for:
Swimmers
Cyclist
Weight lifters 
Weight loss
Workout
Date Night
Vacation
When you want soft and smooth skin, anywhere on your body, we are ready to provide you premier waxing for men in San Francisco.