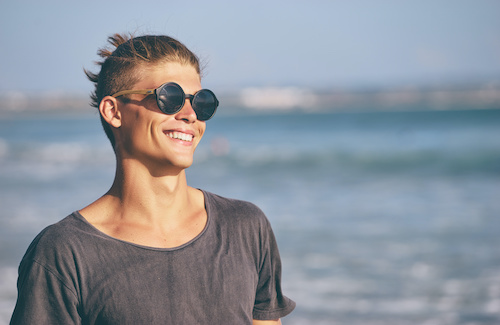 Summer vacations are in full swing. Whether you've already had a couple of full body waxing appointments since the spring or you haven't had a chance to go to the waxing salon until now, there are a few things you need to know. You may have heard in the past about what you should do before your men's waxing appointment to have the most successful results. Today we will talk about what you should not do before your summer waxing appointment to make it a comfortable experience.
Don't Let Your Hair Grow Too Long
If your hair is too long for your men's waxing appointment, it may be more uncomfortable when the wax strip is pulled away. Make sure your hair is about ¼" long for the best results. Hair that's longer than this may hurt and the wax may not be as effective. Any hairs shorter than ¼" may not get removed since the wax can't grab onto the hair enough. Ideally, people should shave about two weeks before their waxing appointment to achieve the proper hair length.
Avoid Excessive Sun Exposure
Hot wax applied to skin that already has some degree of sunburn is a recipe for potentially serious discomfort. Just like you should avoid sun exposure for a couple of days after a waxing treatment, it's also ideal to avoid the sun before your full body waxing appointment. The best approach is to find a time when you don't have a lot of outdoor gatherings planned and set your waxing appointment for that timeframe so you won't have to miss out on any activities.
Don't Use Lotions Or Oils On Your Skin
Avoiding the use of skincare products on the area getting waxed is important before and after your appointment. Lotions and oily products can interfere with the waxing process and make the results not as successful as you'd like. Instead, use an exfoliating scrub a couple of days before your appointment to prepare the skin for full body waxing.
Only Make An Appointment With A Reputable Waxing Salon
Avoid working with a waxing salon for men that doesn't have trained estheticians with significant experience. Many salons claim to be waxing experts, but if they offer other services in addition to waxing, you may not be pleased with the results. Waxing is a very sensitive technique that requires precision and detail to keep customers safe. It's worth it to book an appointment with a reputable waxing salon for men for best results and to protect your skin.
Waxing 4 Men is the premier waxing salon for men in San Francisco and the surrounding area. Whether you need a quick wax in certain areas or it's time for a full body wax, we've got you covered. Be prepared for your next summer vacation by having smooth skin you can feel comfortable and confident in. With these tips you'll have a flawless waxing experience, so contact us today to book your appointment.