Jumping into male waxing for the first time can be intimidating since you don't know what to expect. However, many times the biggest regret men have afterward is wishing they would have started a waxing for men routine earlier. Having proper expectations is critical when you walk into your appointment for the first time. Whether it's understanding what pain level you may be in, what your skin will look like immediately afterward or how effective the initial treatment will be, here are some truths about male waxing to help you know what to expect.
Waxing And Pain Tolerance
The thought of pulling hair from the root seems painful to most people. While everyone's pain tolerance level is different, the process of male waxing doesn't hurt as much as it would seem like. If your pain tolerance is low, you don't have to do full body waxing right away. Start with a smaller area on the body that tends to be a little tougher. Your waxing professional can suggest different areas to begin with to help ease you into the process and get a feel for the level of discomfort you may experience.
Any Area On The Body Can Be Waxed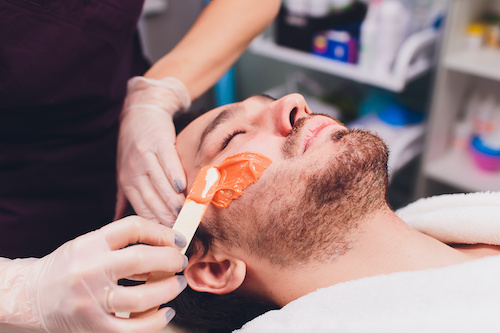 Most guys who have never been waxed before have a misconception that only the chest and back get waxed on men. The chest and back are indeed very common, but they aren't the only areas ideal for male waxing. You could get your legs, your face, your neck and even sensitive areas waxed as well. And of course, if you really want to get rid of unwanted hair, you can opt for full body waxing to be completely smooth. Waxing professionals have seen everything, so you don't have to be shy about which areas you want to be waxed. They will treat you with professionalism and ensure you're comfortable throughout the process.
Multiple Waxing Treatments Are Required To Be Hair-Free
You shouldn't expect to get a full body waxing treatment and then never have to go back for another appointment again. However, the time between your waxing sessions will be much longer than the time between your normal shaving sessions. Your hair grows at different rates, so it won't all be pulled from the root in the same manner in one treatment. Even though your skin will be smooth after each treatment, you'll still need to come back every few weeks at first. Your hair will start growing back more slowly and not nearly as thick over time if you keep a regular male waxing schedule. After a handful of treatments, you may be able to ditch your razor completely.
Waxing 4 Men is here to debunk any myths you may have heard about male waxing. We've heard them all and we are willing to explain the process to you and answer any specific questions you may have. If you have a desire to have smooth skin for the spring and summer seasons this year, contact us today to schedule your initial appointment and to set a new waxing routine.