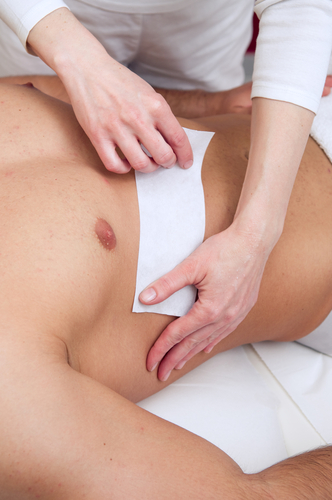 Men wax their bodies more and more often each year. Celebrities do it, women do it, and now men all over the world are waxing, too. In addition to waxing the hair from their bodies, men are also taking part in other body treatments that are on the rise, such as facials and exfoliating salt therapies. Body treatments are becoming more and more socially acceptable for men and women alike. Women shouldn't get to have all of the fun, right?
Male Facials On the Rise
More and more men are stepping up their grooming a notch with facials to improve the look and feel of their skin. In addition to helping men look younger, facials help to brighten, tighten and lighten the skin. Facials are a nice addition to any waxing appointment. They leave you feeling refreshed, hydrated and completely relaxed.
After body waxing, add a Coffee Express Reaffirming Peel Off Mask or a Caviar Collagen Mask. The coffee mask helps to prevent rapid skin aging and leaves you feeling moisturized. Caviar and collagen increase skin hydration and reduce damages from free radicals. Both are excellent compliments to any body waxing appointment.
More Men Are Getting Botox
Unlike a full body wax for men, which has been increasing in popularity for quite a while, Botox is now a rising trend as well. Many men are getting Botox to keep up with their partners who are having it done, or they're getting Botox in their armpits to help reduce excessive sweating. The trend for men is to receive Botox for their forehead wrinkles or the wrinkles on the sides of their eyes.
A beauty treatment that is rising in popularity, but requires less of a commitment than traditional Botox, is a Botox-Like Peel Off Mask. This facial treatment will give your skin the firmness you desire, while leaving you moisturized and glowing.
Salt Therapy to the Rescue
Increasing in popularity, not only do salt therapies offer therapeutic benefits, but they make your skin look and feel just as great. An exfoliating salt glow helps to remove dead skin cells, which leaves your skin feeling soft and moisturized. Salt therapies are available for either the whole body or a specific part.
Where Can I Find Male Waxing Near Me?
Maybe you plan to start your manscaping by treating yourself to a relaxing facial or salt therapy, or maybe you're going to head in for your first, second, or third body waxing appointment. Manscaping has become an essential part of grooming, and many partners prefer a man who has put the time and effort into keeping a smooth, youthful appearance.
The secret to looking young and feeling great is treating your mind and body right. The staff at Waxing4Men can help you to do just that! Contact us today to schedule your full body wax for men, facial or salt therapy treatment. You'll only wish that you'd treated yourself sooner!