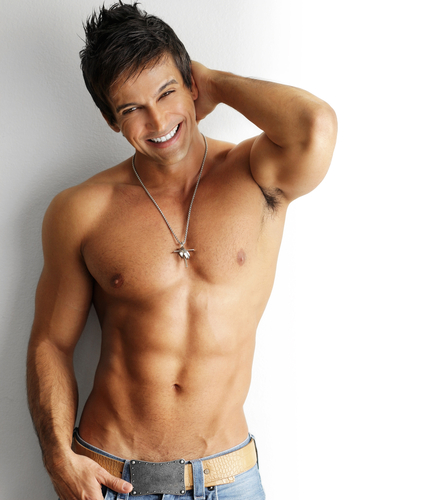 If you're not hearing about the man bun these days, you're probably hearing about manscaping. We hear just as much about men who wax as we do about women who wax. Have you ever seen the movie the 40-Year-Old Virgin? Trust us, waxing is not as painful as Steve Carell's character made it out to be!
Hugh Jackman Sports the Tree Wax
We've all seen plenty of movies with a shirtless Hugh Jackman, but you may not have noticed that the shape of the hair on his upper chest resembles the shape of a tree. This type of shaping involves keeping a moderate amount of hair on the chest with a small trail of hair leading down to the stomach. This type of male body waxing is most popular among the younger generation of men.
Matthew McConaughey Uses Hair Loss Treatments
Matthew McConaughey is known for going shirtless, but you've probably never noticed his thinning head of hair. He once told the Late Show With David Letterman that he had treated his thinning hairline with Regenix and was very pleased with the results. His hairline hadn't looked as good since he was 18 years old!
Zac Efron Skips Daily Shampooing
The no-shampoo craze has been in for a while now, but many men are more hesitant to give it a try for fear of looking greasy, especially if they use hair products. According to Zac Efron, his secret to great hair is skipping a shampoo for one day.
While It's hard to say if Zac's body hair requires more maintenance than the hair on his head, it's safe to say that he has taken part in some form of male body waxing at one time or another.
Pharrell Williams Only Washes with Cold Water
Sometimes beauty comes with a price, even if that means giving up a nice hot shower. The secret to Pharrell Williams' youthful face? He only washes with cold water! He may be onto something because washing with cold water offers a long list of benefits such as improved alertness, refined scalp and skin, improved circulation, weight loss, and stress relief.
Channing Tatum Talks Full Body Waxing for Men
In a movie series like Magic Mike, of course the cast is going to need to remove all or parts of their body hair to play their male stripper characters. Channing Tatum spoke to Ellen about his hair removal experience in an interview on Ellen DeGeneres. Apparently, he needed to have his entire body waxed for both Magic Mike and Magic Mike XXL, even though he swore after the first time that he'd never do it again.
If you're looking to gain smooth, glowing, youthful skin like any of these 5 Hollywood men, please contact us to schedule an appointment at our men's only salon. We specialize in services such as male body waxing, facials, and salt therapy. Contact us today to schedule an appointment.