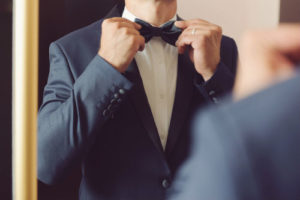 With your wedding date quickly approaching, you may feel like there are way too many things to do and not enough time to do them all. The planning and preparation may be overwhelming and make you forget about the important things in life…your hygiene and grooming.
When your bride is just about ready to come down the aisle, male waxing could be your best option for grooming. Besides, no bride wants to see a hairy guy standing there waiting for her. And she definitely doesn't want to deal with a hairy mess on the honeymoon and beyond. Here are some tips on how to get properly groomed so you're ready for your bride.
Your Bride Wants A Clean Groom
Sometimes waxing for guys doesn't come naturally. The thought of having a warm wax applied to any area of your body and stripping your hair may seem painful on its own. But think about the person who has to live with you for the rest of their life. While your bride may deal with your hairy back, chest or other areas, there's a good chance she secretly wants you to get it removed. Male waxing isn't as bad as it seems, and it's worth it when you get a happy bride in return.
Don't Forget About Private Areas
If you're going to go through a male waxing treatment anyway, you might as well go all the way. Waxing your private and sensitive areas can be intimidating if you've never done it before. However, when you use an experienced waxing salon, your experience will likely be much better than anticipated. If you can deal with some slight discomfort in the sensitive areas of your body, then you'll be able to give your bride the smoothness she secretly desires.
Where to Get The Best Treatment?
When looking for the best waxing for men in San Jose, look for a salon that's been around for a while. This is especially true if you're going in for your first waxing treatment, which is common for grooms. Be sure to ask the salon plenty of questions about what you need to do to prepare for the treatment, what the actual treatment is like and what the recovery process entails.
Waxing 4 Men offers complete male waxing treatments for grooms ready to greet their bride at the end of the aisle. If we can take at least a little pressure off of your wedding day by taking care of your grooming for you, then we've done our job. Be sure to call us or even text us to learn how we can help make you ready for your wedding day and beyond.