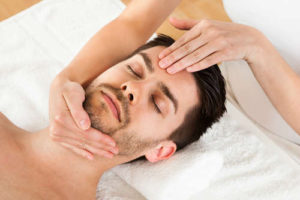 Skin break outs aren't just for teenagers. Grown men can continue to get acne into their late 20's and even to their mid-30's. Other men get rid of their acne, but can't seem to cure the acne scars left from years of struggling with pimples and inflammation.
Why Adult Men Get Acne
If you're struggling with acne as an adult man, don't feel bad. You're not alone. Many other men struggle to get a grip on acne and scaring as they age. Men are typically more likely to have severe, long-lasting acne than women due to hormonal changes and imbalances.
Hormones, often testosterone, play a significant role in adult male acne. Men with high testosterone levels and a genetic predisposition to acne often struggle with pimples, blackheads, and inflammation until their mid-30s. The inflammation is a result of the body's attempt to treat the bacteria causing the acne.
Luckily, this suffering doesn't have to last forever. No matter your age – if you're ready to get rid of acne once and for all, we have a number of adult male acne solutions to offer you.
Our Solutions For Men With Acne
We're not just a salon for men's waxing in SF. We offer a variety of solutions for men with acne. Our treatments thoroughly cleanse the pores, reduce inflammation, and get down to the root of acne by wiping out the bacteria.
Once a treatment is completed, a discussion surrounding diet, nutrition, exercise and hygiene is held. We believe that the proper clinical care is only as good as what you do at home to eliminate acne. While we can get rid of the bacteria and offer your skin rejuvenation, the way you take care of your skin at home will greatly reduce acne and the recurrence of breakouts.
We truly believe everyone can have great skin, even if male body waxing isn't what you're looking for. As the skin care leaders in San Francisco, we look forward to treating your acne and offering you skin rejuvenation.
Learn more today by stopping by or getting in touch.
Clinical Acne Treatment - 60 minutes
$160